The Joy of Becoming a Mom
Author: Kailen W.
Date Submitted: Nov 3, 2021
Category: Family Birthing Center
" I've been to other doctors' offices, which can be desensitized. After more than 25 years, Dr. Bacchus is still so kind."
Forever Patient of Dr. Bacchus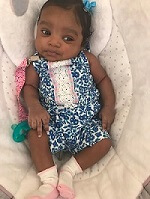 ​Kailen Winger was born and raised in New Orleans. Her mother and sister are both patients of Dr. Marcel Bacchus, an OB/GYN with Touro's Crescent City Physicians. She describes Dr. Bacchus as a "generational physician". As soon as Kailen turned eighteen years old, she began visiting Dr. Bacchus. "I always knew he would be my physician," says Kailen.
Kailen and her fiancé Kelle Tucker were introduced by their families, and enjoyed their first date in City Park, looking at the stars. The rest was history – the pair have been inseparable ever since!
Earlier this year, Kailen and Kelle began their next great adventure together! Kelle's sister was the first to suspect that Kailen was pregnant. "I went to the store to buy a test to prove her wrong. But I didn't prove her wrong. I was pregnant!" says Kailen. Kailen's journey to motherhood began, and she saw Dr. Bacchus throughout her pregnancy.
"He is so informative and detailed. He tells you everything. He cares about your feelings, but he is honest. When I have an appointment, I am excited to see him. It is not dreadful because I want to go."
Welcoming Baby Phoenix
On May 2, Kailen was watching Kelle play video games when her water broke. They rushed to Touro and anxiously waited for the arrival of their daughter! Dr. Bacchus was a calming force throughout the labor and delivery process. "Dr. Bacchus was great during the birth," says
Kailen became close to Dr. Bacchus and his whole staff throughout her pregnancy. "I miss him," she says. "I've been to other doctors' offices, which can be desensitized. After more than 25 years, Dr. Bacchus is still so kind. The whole staff is very warm." Kailen has been a patient of Dr. Bacchus for almost six years, and she says that she will always be his patient. Kailen. "I was crying throughout the delivery," says Kailen. "We were all in tears except for Dr. Bacchus." Kailen pushed for 30 minutes, and was overjoyed to welcome her daughter Phoenix Tucker to the world on May 3, 2018.